2023's Devlog
28.03

Reading:
Terry Pratchett - Mort
Listening:
RY X - Bound (Live from the Royal Albert Hall)
KARAŚ/ROGUCKI - Jutro Spróbujemy Jeszcze Raz
sanah - wars
Watching:
Avatar - The Way of Water

20.03

Reading: Terry Pratchett - Eric
13.03

Re-learning egui, works wonderfully for making interactive node graphs!
Reading:
Terry Pratchett - Sourcery
Watching:
David Lynch - Blue Velvet
Listening:
Roy Orbison - In Dreams
Jack Stauber - Cheeseburger Family
05.03

Moving website generation to GitHub actions. Considering migrating my VPS to ansible-managed.
02.03

Reading:
Terry Pratchett - Making Money
Listening:
Nation of Language - On Division St
Ásgeir - Snowblind
22.02

Starting to think about the visual representation of the graph I'm gonna be evolving for my master's thesis
18.02

Learning Ansible, taking care of servers at work.
Listening:
Depeche Mode - Ghosts Again
Cautious Clay - Cheesin'
Jacob Collier - Hajanga
Juno Reactor - Guardian Angel
04.02

Watching:
Code Lyoko
Reliving the cartoons from my childhood. Amazed to see that their website is still alive and active!
Listening:
Aphex Twin - Selected Ambient Works
Passenger - Things That Stop You Dreaming
Kishi Bashi - 151a
Sleeping At Last - You're Enough
Depeche Mode - The Love Thieves
Brian Eno - LUX 1

28.01

Recorded a small demo of libretakt - a sampler I've worked on during a university course.
Reading:
H.P. Lovecraft - At the Mountains of Madness Watching:
Ghos in the Shell 2: Innocence
27.01

Exploring ideas related with decentralised search engines. Wrote a small manifesto on a new paradigm for how we search the web.
Watching:
The Call Of Cthulhu (2005)
Listening:
Aphex Twin - #3
Cory Wong - Power Station Tour
21.01

Starting to work on generating synth pathes from audio samples!
Listening:
Rysy - Traveler
Son Lux - Plans We Made
Fiora - Let It Go By
LCD Soundsystem - Home
MC Virgins - Sundress (guilty pleasure, obviosly. Helps getting through the semester though)

17.01

Did a minor contribution to Mutable Instruments' documentation repo. Glad to see that I'm getting more comfortable with suggesting patches to various open-source projects! Also glad that it's possible to "just submit" a suggestion to software written by a prominent artist. Despite all the negativity coming from the media and politics, we live in a great age :)
Listening:
Boa - Duvet
Vulfmon - Boogie Man
Jeanette - El Muchacho de los Ojos Tristes
Rysy - Wyspa
Rysy - Przyjmij Brak
14.01

Listening:
Carbon Based Lifeforms - Live at Ozora Festival 2017
10.01


Not a good day. Those cubesats really had potential :(
09.01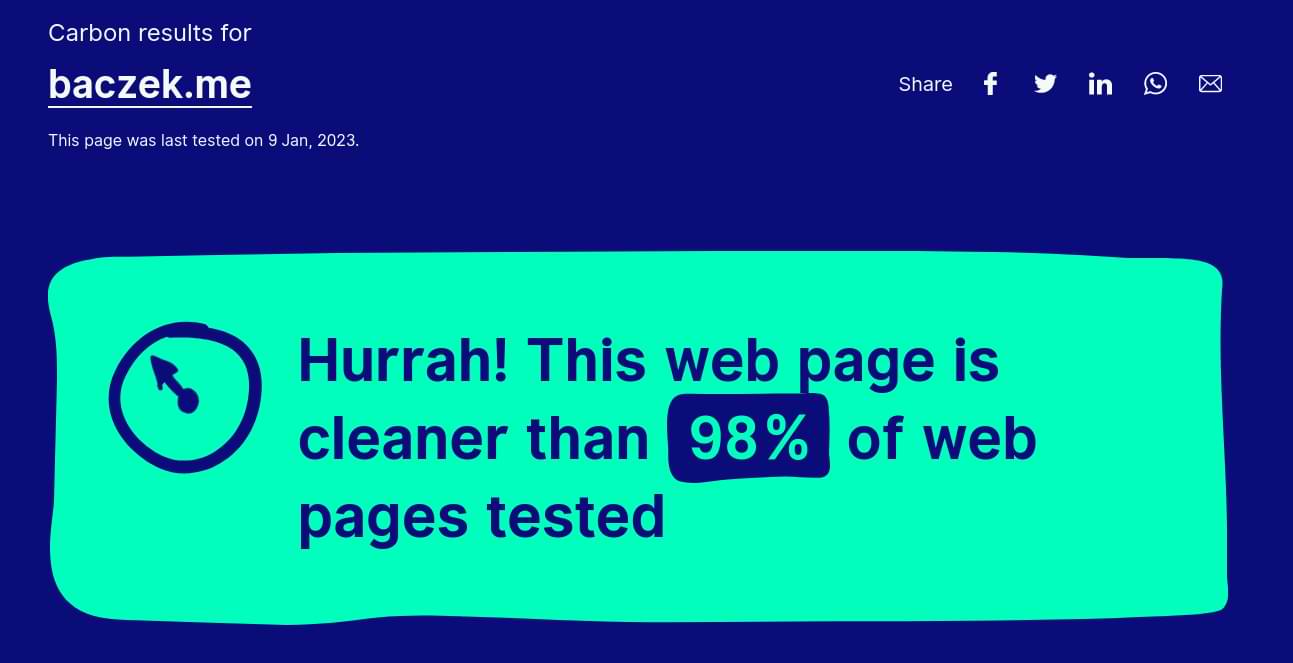 Watching:
Guillermo del Toro's Cabinet of Curiosities
Listening:
Vulfpeck - Schvitz
T.Rex - Get It On (Virgin Magnetic Material remix)
Virgin Magnetic Material - LBDs mixtape
05.01

Reading:
Sean Luke - Computational Music Synthesis
Watching:
Warner Herzog - The Enigma of Kaspar Hauser
02.01

Mood: reverb diagrams aesthetic.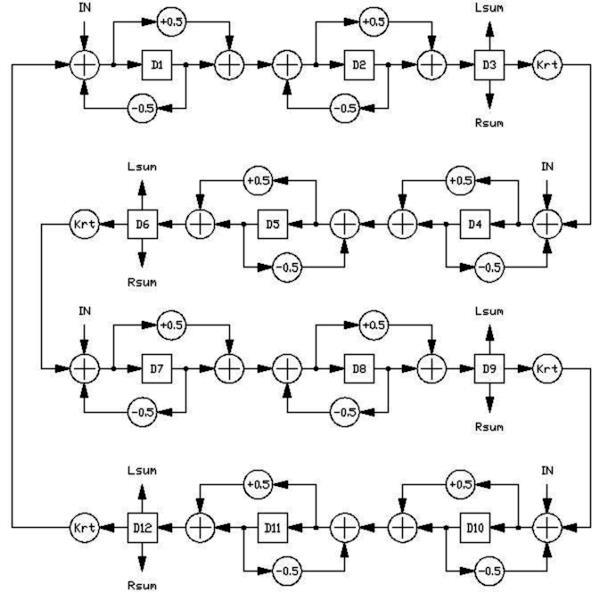 01.01

Trying to improve the website map using Graphviz's gvmap. The clusters represented below have no real meaning, I've added them just to see whether this idea makes any sense visually.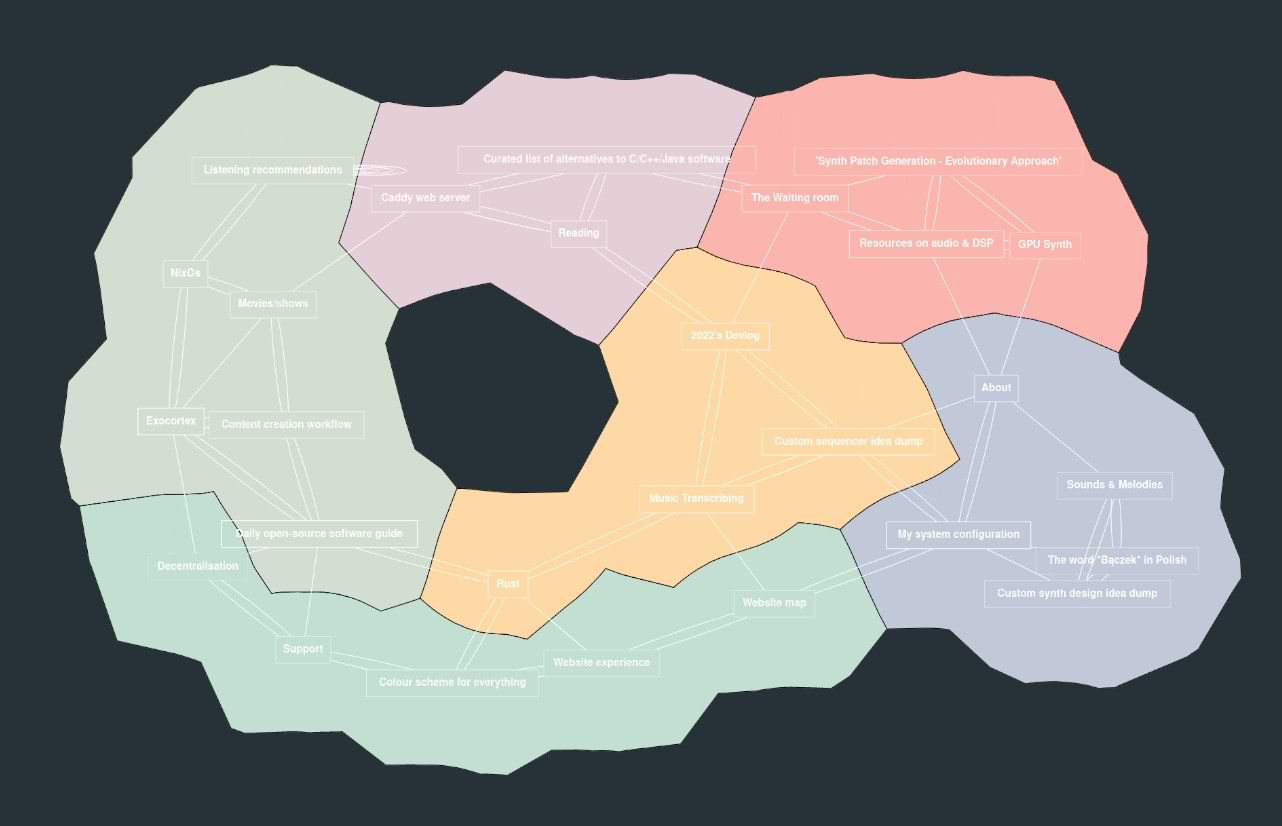 Recently edited posts are now marked with an indicator:

Added a simple tags system to post metadata, will help with map generation.
---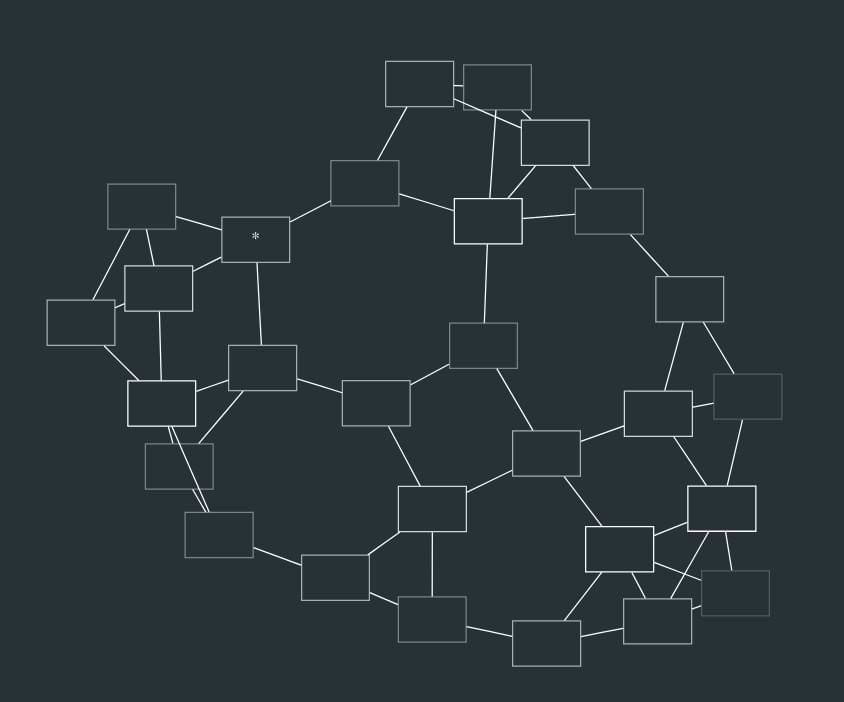 Reading:
Nicholas Kristof, Shreyl WuDunn - Tightrope. Americans Reaching for Hope
---
Go back to 2022.
---